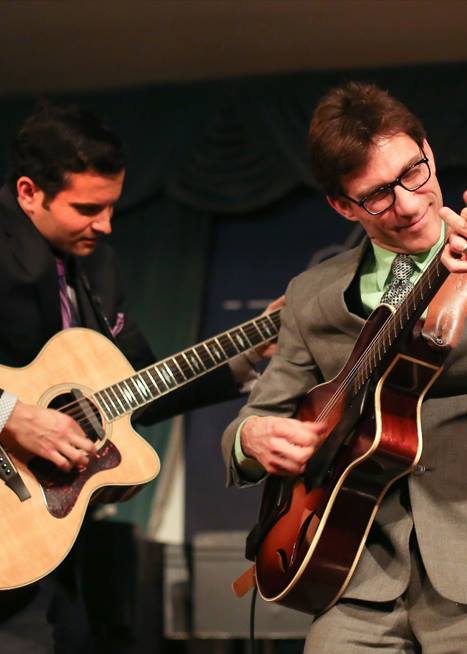 Time :
7:30pm - 9:30pm Doors Open 6:30
Guitar Masters @ Studio A – Frank Vignola & Vinny Raniolo
Bakersfield Music Hall of Fame
Guitar Masters @ Studio A Presents – Frank Vignola & Vinny Raniolo
Frank Vignola is one of the most extraordinary guitarists performing before the public today. His stunning virtuosity has made him the guitarist of choice for many of the world's top musicians, including Ringo Starr, Madonna, Donald Fagen, Wynton Marsalis, Tommy Emmanuel, Mark O Connor, the Boston Pops, the New York Pops, and guitar legend Les Paul, who named Vignola to his "Five Most Admired Guitarists List" for the Wall Street Journal. Vignola's jaw-dropping technique explains why the New York Times deemed him "one of the brightest…stars of the guitar."
Vinny Raniolo is best known for his accompanying skills and is a very high demand rhythm guitarist. His dynamic playing has taken him to 14 countries on three continents (and still growing), and he has performed in some of the world's most illustrious venues, including the Sydney Opera House in Australia, The Palace of Fine Arts in San Francisco, New York's Lincoln Center and the world's oldest indoor concert hall, Teatro Olimpico in Vicenza, Italy.